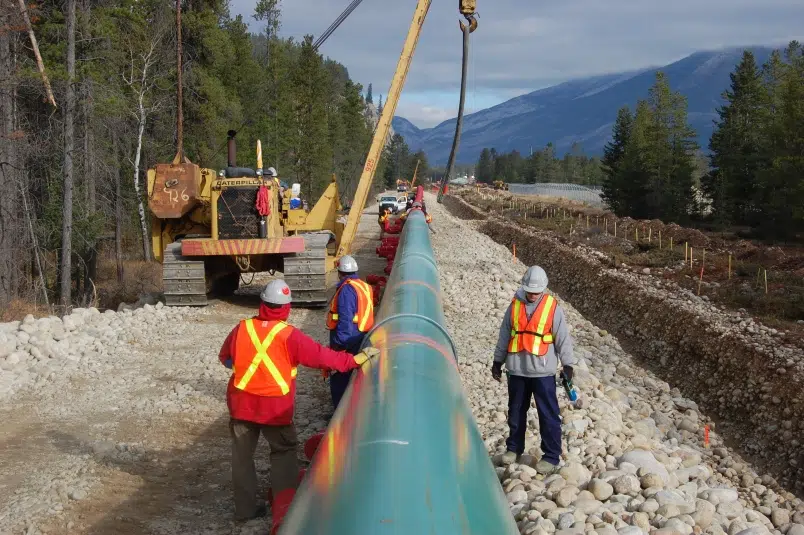 Trans Mountain has filed a construction schedule for the next six months of its pipeline expansion project.
It says it'll begin work this month on a tunnel portal at the Westridge Marine Terminal near Burnaby Mountain.
The company also says construction in Alberta will start in August and work in North Thompson, B-C, will start in September.
Greenpeace activists rappelled off a bridge in Vancouver yesterday to protest the expansion, which the Canadian government bought for 4.5 billion dollars.
————
In the online survey of a representative sample of 820 British Columbians, it is clear young people in the province feel somewhat challenged by their current financial situation, and struggle to be better positioned for the future in a way that older residents do not. A majority of those 18 to 29 years of age (52%) admit they are struggling financially, and not saving for the future. Most notably, 24% are living pay cheque to pay cheque. By comparison, 41% of British Columbians 30+ find themselves financially constrained, with only 16% depending on their regular pay cheque to cover their living expenses.
"Never mind home ownership," points out Tracey Arnish, Chief Member and Employee Experience Officer. "Even renting in the Lower Mainland is a stretch for a lot of young people. Once you take housing costs off the top, there isn't a lot left over for other obligations."
When it comes to putting money aside for the future, younger British Columbians display distinctly different behaviours than their older counterparts; 22% of 18-29 year olds are scrimping now and saving for the future, with only 18% saying they are living well and saving. Those 30+ are much more likely to be living well and saving (34%), and fewer see the need to control their expenses now in order to put money aside (just 14% hold this view).
Within this context, it is perhaps not too surprising that the vast majority of 18-29 year olds in British Columbia (85%) assert it is virtually impossible for young people to buy a house today, including 57% who hold this opinion strongly. Older British Columbians share the same degree of pessimism when it comes to home ownership for young people (86%, 57% strongly). Where they differ, however, is in the impact of the high cost of owning a home. A majority of young people (60%) are seriously considering moving to areas where home ownership is less costly (25% strongly share this view). This is not as true for those 30 years or older, among whom just 33% are thinking about moving.
"Home ownership might not seem like a plausible financial goal for a lot of young people in today's market," explains Arnish. "That doesn't mean that it isn't possible. If it is something that you're striving for, you can absolutely make it happen. It is going to take some savvy financial planning, but it is within reach."
While most young British Columbians do think about their future, when it comes to drawing up a road map for financial freedom, a solid majority (58%) say it is difficult to find a financial planner they can trust. Fewer older people in the province have this same problem (47%). This difference between the age cohorts is particularly pronounced in Metro Vancouver, where 62% of 18-29 year olds find it difficult to locate a trustworthy financial planner, compared to 52% of those 30+.
"Young people often think that financial planners are only for their parents – those who are more established financially and likely have sizable savings or investments," says Arnish. "I can't stress enough how wrong that assumption is. The younger you establish a relationship with the experts at your financial institution, the better off you are going to be. Think of a financial planner as a money mentor, someone who can help you harness your potential and help guide you in achieving what is important in your life."
With their perspectives on saving for the future and home ownership not particularly optimistic, it is surprising that young British Columbians display somewhat ambivalent views when it comes to money. For example, though a majority (57%) believe money can buy happiness, a significant number – 43% – do not share this sentiment. Older British Columbians (30+) hold distinctly opposing and less ambiguous views; 59% disagree that money can buy happiness versus 41% who agree it can.
"Under 30s are certainly in that stage in life where they often don't have enough money to do exactly what they want or live where they want. And, they're worried about how they can put money aside to save for their future," says Insights West President, Steve Mossop. "This may be having an effect on how they view money, and whether to even bother planning ahead. Among 30+, there seems to be a more settled approach to their finances likely due to life experience, savings opportunities through employment, and, in part, to the wisdom one gains with age."
——–